Education & Achievement Awards


We have a large range of School Trophies including Academic Awards and Sports awards. Custom made School medals, Academic Medals medals, star medals, art medals, victory trophies, trophies with a books, lamps and globes. There are trophies for science, graduation trophies and a large range of general trophies. They for part of our extensive range of education awards and trophies.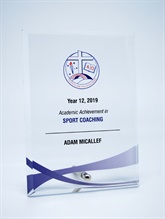 Printed Glass Trophy Plaques
These modern day attractive glass plaques with full colour print make a great alternative to the Traditional trophy. Priced at great value they come with metal stand and box packaged. Give you achievers a modern style trophy that is attractive in it display in any home.
Order Results By
Australia's most comprehensive range of Academic & Education Awards
Premier Awards have been supplying Education Awards and Trophies to Schools right across Australia for over 50 years. We pride ourselves in making Academic and School Trophy ordering reliable, pleasant and easy. You can order directly online or add items to 'My Favourite' and send a quote request to get the most competitive pricing in Australia. See also our General Trophies Section that offers more trophies available for School Awards
We Deliver Reliably right across Australia
---